The Rise Of The Digital Only Customer
The need for an omnichannel experience, with a strong emphasis on mobile, has never been more apparent. The choice of a bank and financial services is no longer a simple matter of comparing fees, better interest rates or product offerings. User experience has become a major differentiator, and customers expect the best in terms of products, services, as well as experience.
While banking applications for consumers are plentiful, small companies and large corporations are limited in their ability to check up on things from their smartphones. The world of financial applications for businesses is small. Most of the largest banks have some sort of application for business although those tend to be more tailor-made for corporate clients. Small businesses often use some version of the application for individuals.
Small and medium-sized enterprises want mobile banking application that will help them run their businesses in a smarter way. This is why banks should provide intuitive, user-friendly mobile banking applications, as well as advanced features that go beyond the needs of the traditional retail banking consumer.
GET Corporate Mobile Banking Application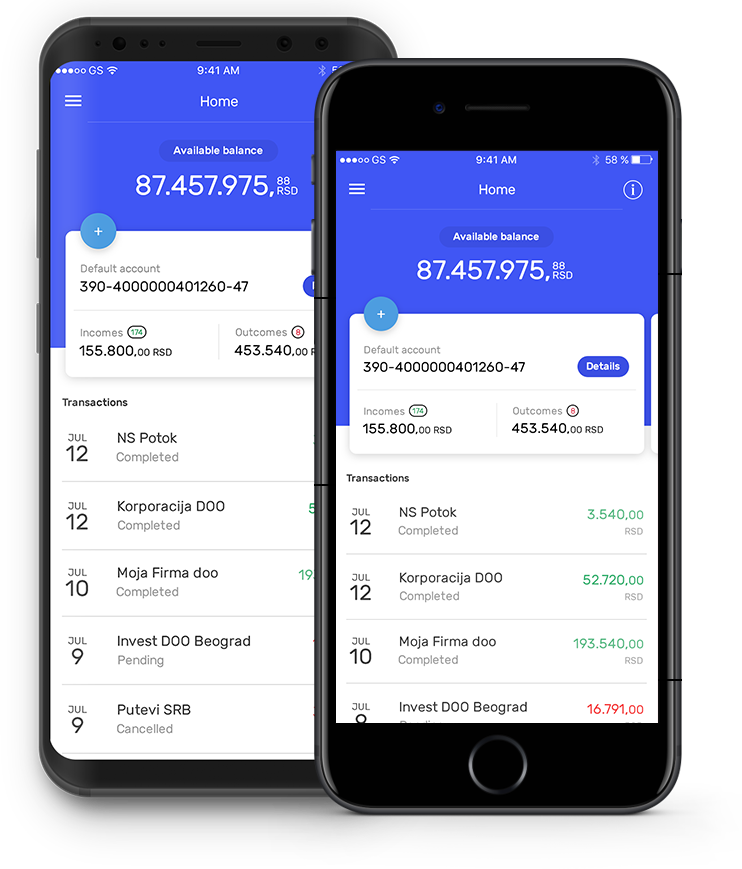 GET Corporate Mobile Banking meets all regulatory demands. We make sure our application seamlessly integrates with banking systems. We have also addressed and solved the major challenges mobile banking is facing today, among which:

Leading Banking practice

Configurable solution entirely adaptable to all core banking solutions

Running across all mobile devices

Full-featured functionality

Multi-language user interface

Easy and intuitive usage

Built-in demanding security standards with advanced security features
We have reduced the bank system complexity by creating a User Interface that is simple and easy to use.  It provides legal entities with an enjoyable and flexible banking experience while allowing complete control over finance – anywhere, 24 hours a day.
GET Corporate Mobile Banking is user-friendly, convenient and highly secure. It also provides customers with the freedom to access and manage banking accounts and transactions from smartphones for both iOS and Android operating systems.
High-frequency Activities
GET Corporate Mobile Banking allows mobile users to log on, review their balances, move their money, look at recent activity and log out. It is imperative to provide easy access to these features or else banks are facing the risk of consumers becoming disengaged and looking elsewhere for a more effective mobile banking platform.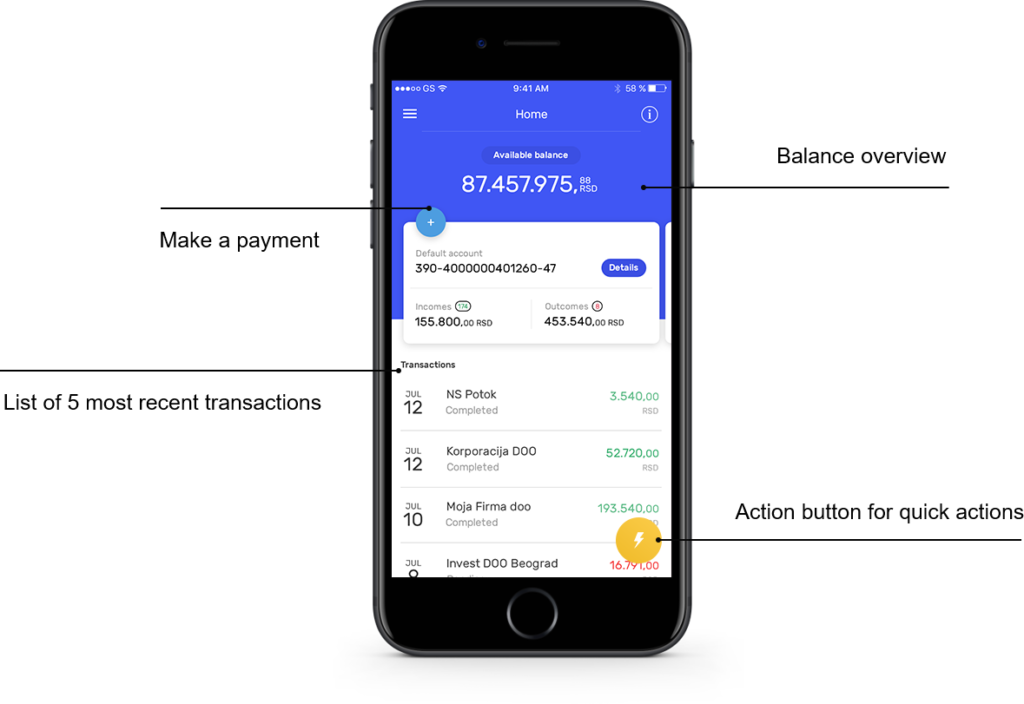 GET Corporate Mobile application offers a comprehensive list of functionalities including:
Managing account on the move – Check accounts balance between multiple domestic and foreign accounts with a simple swipe
Making payments –

Transact between internal accounts and/or other external accounts in just a few clicks

Card and overdraft limit management –

Monitor and manage debit and credit cards and cash withdrawal limits

Advanced transactions search – Easy transactions search by their type, date, amount or other party names
Sharing options – Ability to preview and share account statements and payment orders,
Payment templates – Templates for quick and hassle-free payments
Push notifications – Simple overview and management of the push notifications regarding the bank's products
Managing user profile – Personalization of application through quick menu and users photos
Technical Requirements
GET Corporate Mobile application can be easily accessed on devices with the following software requirements:
Apple® iPhone® iOS 9.0 and higher

Android ™ – powered devices with platform 5.1.0 and higher